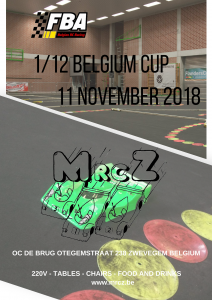 The Belgian Electric section decided last year to organize two 1/12th promo races. The first race was hosted on the track of Velocitatem (April), the second race will be hosted on the famous indoor track of MRCZ (Zwevegem). We are proud to organize one of both races.
When those promo races are a success there is a big chance that Belgian driver(s) regain an official 1/12th championship.
No license required.
https://www.myrcm.ch/myrcm/main?hId[1]=bkg&dId[E]=42535&pLa=en
*** 1/12 Stock 17.5 Blinky will be available from 20/10/2018. ***